Believe in One. Affect Many. Welcome All!
Upcoming Events at Holy Cross
Quilt Show and Musical Performance
Come, See, and Hear!
For more information about our Artown event on Sunday, July 17 from 12 noon to 4pm go to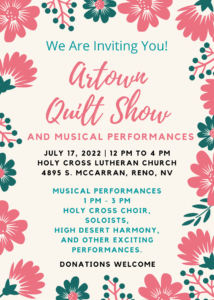 Sunday Morning
In-Person Worship
9:00am and 10:30 am
Masks Optional
Worship Online on YouTube or Facebook
Watch here for
upcoming events!
Vacation Bible School was a huge success!