Our leadership team recognizes the authority of God, and realizes that we are shepherds who serve under the Chief Shepherd, Jesus Christ. We desire to devote ourselves to prayer and to the ministry of the Word. Our passion is to share the love of Jesus with all people, and our goals are to help people be transformed by the love of Christ, grow in their faith and equip them for ministry in the world.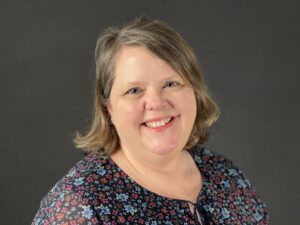 Pastor Kathy Morris
Pastor Kathy Morris began her ministry at Holy Cross in January 2019.
Since her ordination in 2001, she served as Associate Pastor at Our Shepherd Lutheran Church in Severna Park, Maryland as well as New Song Lutheran Church in Henderson, Nevada. A graduate of Trinity Lutheran College and Luther Seminary, Pastor Kathy has a passion for helping people of all ages see how God is working in their lives and sharing God's abundant grace with others.
She has been married to Jeff since 2005 and they have two amazing children, Abigail and Samuel. In her free time, Pastor Kathy loves spending time with her family, reading, scrapbooking, writing, traveling and exploring God's wonderful creation, and all things Disney.
Lanai Strawn, Administrative Assistant
Lanai was a long time visitor before relocating to Reno in 2019 from Watsonville, California. She has a rich background of office management for churches, and she is excited to join the Holy Cross Lutheran family. She was the office Manager at the Congregational Church of Soquel for 2 years and the Office Administrator at the United Presbyterian Church of Watsonville for 10 years. During her time at the Presbyterian Church she did it all to include handling all the finances/payroll to the everyday tasks of the church and preschool. Lanai is the proud mother to three grown children and has seven grandkids. Lanai enjoys fishing, eating at buffets and attending live concerts.
Brittne
y May, Music Director
Brittney is originally from Anamosa, Iowa. She studied Music
Education at Wartburg College in Waverly, IA and graduated Cum Laude with her bachelors degree in May 2011. After graduation she moved to Tucson, AZ and taught K-6 band, choir, and general music for four years. She then moved to Reno, NV in June of 2015 to begin her Masters degree in Music Education from UNR which she completed. She is also the Adjunct Professor to the Head of the Choral Program there. Brittney enjoys traveling to see her family and friends, trying new restaurants, music, yoga, and is an avid dog lover.
Becky Bradley, Organist/Pianist
Becky started taking piano lessons in Kindergarten, and then began playing the organ in 6th grade. She's dabbled with flute, guitar, and string bass in the past, but keyboard is her forte. Becky started accompanying her school choruses while in 4th grade and accompanied undergraduate music majors in college. Her professional church organist duties include an Episcopalian church (2 years), a Presbyterian church (20 years), and an Evangelische Kirche in Germany (9 years). She has also been musical director of an Army Community Theater when living in Germany. Becky is a retired teacher of high school students with learning disabilities, and now operates her own medical billing/transcribing business and Shaklee MLM out of her home. Since she doesn't like to practice, she's kept music as her hobby!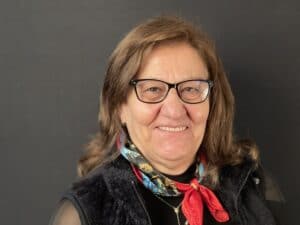 Joulette Marbina, Janitorial Services
Joulette has been providing janitorial services for Holy Cross for many years. She is a long time member of Holy Cross with family in Reno. Her loving care of our facility has maintained a high quality of cleanliness over the years.
Katie Torry, Church Council President