Only ONE service on May 19th at 10:30 am with our Annual Church Picnic following.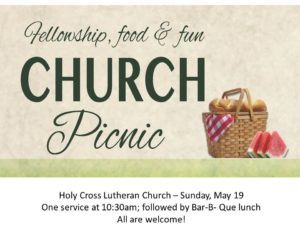 Sunday Mornings at 9:00 am (starting 5/26)
Wednesday Evenings at 6:30 pm (starting 6/12)
Communion is served at both services
Godly Play: 10:20 am (3 years through 6th grade)
Godly Play is a creative, imaginative approach
to Christian formation and spiritual guidance.
Godly Play will be on hiatus during the summer months as
we will have family worship on Sunday Mornings starting on May 26th.
Holy Cross Lutheran Church
4895 S. McCarran Blvd, Reno, NV 89502

✞

775-827-4822