Sanctuary Stained Glass & Book Stand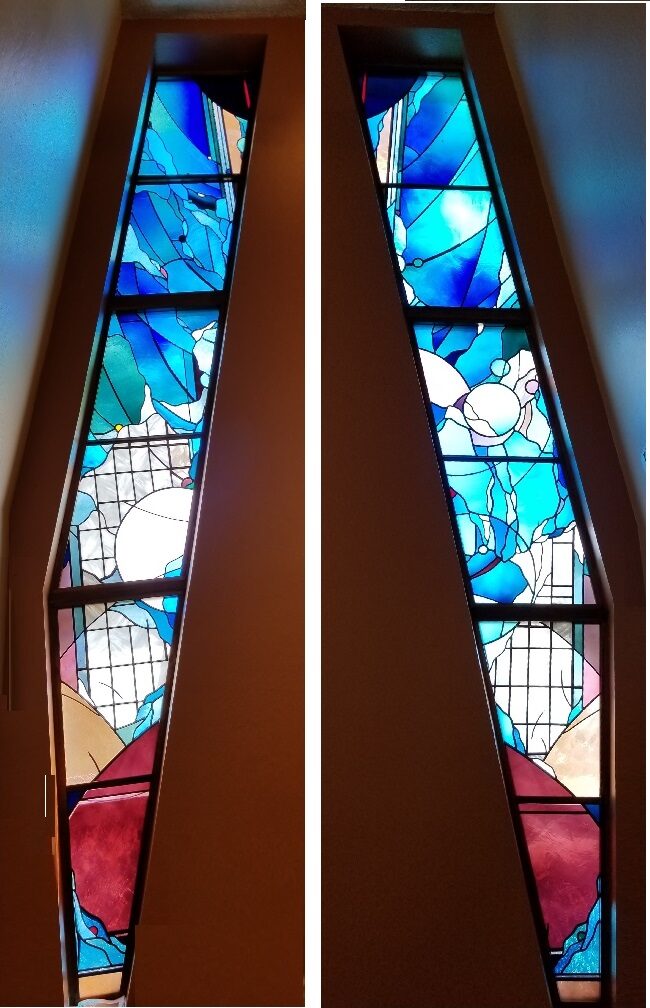 The Sanctuary Stained glass was designed by Architectural glass artist Mark Eric Gulsrud who has operated a studio in Tacoma, Washington for over 35 years. He is well-known in the Pacific Northwest, where his work is displayed in a variety of settings.
Of his work and what he intends he writes,
"Whether public, corporate or liturgical, there exists the potential for the creation of a spiritual oasis; a space conducive to calm, healing and personal growth.
Art has the potential to ease stress, induce a sense of calm and enrich lives. I consider my artwork as a visual point of departure as each individual brings their own perspective. Like cloud watching … one is free to discover an unanticipated aspect, to see something new within the familiar."
This orientation to his work is evident in the stained glass at Holy Cross, which is more abstract rather than portraying recognizable Christian symbols or biblical images or stories.
The book stand
on the communion table or altar which holds the worship book was crafted by Holy Cross member Wib Namestka and dedicated in March of 2011.
It is constructed of a variety of woods:
The Bloodwood from Africa on the front and sides are a reminder that Jesus shed his blood for human sin.
The American Black Walnut used on the trim and crosses remind Holy Cross of its unity with other Lutheran (ELCA) congregations.
The Cocobola wood from Central America used on the main body of the top is a reminder of support for missionaries and world relief.
The stand was made from discards or scrap wood, a reminder of God's steadfast love and grace which accept all.