Church Council
Council meets on the 2nd Monday of every month at 6:00 pm. The Church Council oversees the following ministries: Adult Christian Education, Audio-Visual Technology, Finance, Godly Play, Property Management & Maintenance, Service & Fellowship (includes Altar Guild), Stewardship, Welcome & Outreach, and Worship & Music. Council meetings are open to the congregation.
A church must stand by it's convictions. Convictions are absolutes sunk so deeply into our life–they drive you in one direction and keep you from all others. They're the incontestable absolutes of our life. We need to stand for something, or we'll fall for anything. If a prospective parishioner sees the church as not holding to it's basic beliefs but accepting anything that comes along then why should he join?
John Farrell, President Kathy Doyle, Secretary
Deborah Goebel, Vice President Fran Moses
Diane Torry Katie Featherstone
Linda Puckett, Treasurer
John

F
arrell

,
Council President
I was born in Poughkeepsie NY, where I lived in the small town of Wappingers Falls, NY. My parents had both been raised in New York city and decided that their darling little boy was not going to be raised in the city. When I was nine, we moved to Florida after my father drove home from work in a blinding snow storm. A couple of years later my father began to miss the Army. He had spent three and a half years fighting his way up the Italian boot. When the USS WASP arrived in New York harbor he got off the ship and traded in his infantry uniform for civilian clothes. He did three summer tours as Army Reserve at Ft. Benning before rejoining the regular Army. Our next post (and this was a hardship) was Honolulu Hawaii.
I graduated from Largo High and the University of South Florida, before joining the USAF. While in the USAF I had the privilege of flying a number of aircraft spending most of my time in the F-4. While I flew all models of the F-4 and all of its many missions, my proudest accomplishment was to fly the Wild Weasel (WW). The Wild Weasel mission is officially known as Suppression of Enemy Air Defenses (SEAD).
After retiring from the USAF, I entered Arizona State University, graduating 2 years later with a Masters in Accounting and Information Systems. I worked for a number of firms managing IT infrastructure & Cyber Security. I spent 23 years as a civilian in different roles. After 23 years in the Air Force and 23 as a civilian I decided that 46 years of creating chaos was enough. Phyllis and I retired to Reno in June of 2016.
I was confirmed by the Rev. Arthur Libby Albers at the Garden of Peace Lutheran church in St. Petersburg, who was the most influential religious figure in my life.

Deborah

Goeb

el
I was born in Malaysia and grew up in Singapore. My family moved to the USA in the mid 80's. I moved to Reno from Camarillo, CA in 2014 with my husband Geordan, and our children Karl and Audrie.
I was very involved with our church in Camarillo, Mount Cross Lutheran for many years. I served on the Learning, Nativity, Youth Committees, as well as serving on council. I was a Confirmation leader for 4 years as well as the VBS Director for 3 years. Since joining Holy Cross in 2014, I am a member of the service committee and now am Vice-President of the church council.
I am excited to be serving on council where I can share my talents. I look forward to working with the other council members in continuing Holy Cross's impact on the community as well as in finding new ways we can grow; the congregation, our presence in the community and expanding our faith to future generations.

Kathy Doyle,
Council Secretary
I have been attending Holy Cross since 2013 when I moved to Reno from Marin County, CA, with my husband Charles.
I was immediately drawn to Holy Cross because of its size and friendliness of the congregation members. In addition to being on the Council, a few years ago I started a Women's Book and Bible discussion group based on books with biblical themes. I am also a member of Hooks & Needles, a church knitting and crocheting group that makes shawls, caps, scarves, blankets, etc. for various charitable groups around Reno. I also serve on the New Members Committee, which organizes orientation sessions for new church members. I really enjoy being on this committee, as it gives me a chance to get to know prospective new members.
I lived for most of my career in the Washington, DC area, where I worked for circa 30 years for the U.S. Department of State Diplomatic Service . Upon retirement, I moved to San Francisco to work in the private sector, where I met my husband Charles. I am so happy to be in Reno and to be a part of the Holy Cross family.

Fran Moses

Warren Kline

Katie Feather

stone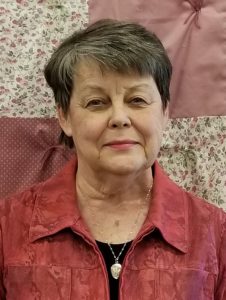 Diane Torry
I was born and raised in rural Northern Minnesota, where I was baptized and confirmed at Zion Lutheran Church in Twin Valley. I hold a Bachelor's and Master's Degrees in Political Science and International Relations from the University of Minnesota. with post graduate work in finance and accounting at the University of Nevada, Reno. I retired as a senior US Bank executive, having served in progressively expanding leadership and management roles through corporate lending and executive positions including President and CEO of US Bank Nevada. Following my retirement I taught leadership and management as an adjunct Professor in the School of Business at UNR. I worked with my husband Mike at MLT and Associates, a national re-manufacturer of point of sale terminals.
My forty years of community service includes United Way of Northern Nevada, Board Chair; Nevada Bankers Association, Chair; Advisory Boards at the University of Nevada; Habitat for Humanity; Board of Directors, Boys Scouts Nevada Area Council Board of Directors; Economic Development Authority; Chamber of Commerce; Financial Women International; and Prospectors Club.
Today in addition to work with Holy Cross, I serve as President of the Board of Trustees of Silver Sage Manor, Inc., and Vice Chair of the Children's Cabinet Foundation.
Mike and I have 2 daughters, Katharine and Natalie. We joined HCLC in 1981. I have served on church council, and numerous committees including finance; stewardship: new member; building; landscape; quilt group. We enjoy time with family, friends, and home.

Fred Ford
I and my, Karen, have been members of Holy Cross since April of 2006. I have served as an usher, a counter and helped at the Silver Sage Thanksgiving dinners.
I grew up in Montana, went to college for a couple of years, then joined the Army, serving in Germany for two years. I came back to Montana, finished college, then went on to grad school in Minnesota. I ended up staying almost twenty years in Minnesota, working in Education and business. In 1986 I took a position in CA and worked there until I retired. I have over forty years experience in human resources, with thirty plus years serving on different Executive committees.
Karen and I have a son and a daughter, five grandchildren and one great-grandson.
I hope my education and business experience will help me be a positive contributor to the church council.