Church Council
Council meets on the 2nd Monday of every month at 5:30 pm. The Church Council oversees the following ministries: Adult Christian Education, Audio-Visual Technology, Finance, Godly Play, Property Management & Maintenance, Service & Fellowship (includes Altar Guild), Stewardship, Welcome & Outreach, and Worship & Music. Council meetings are open to the congregation.
The council is the congregation's governing board and provides general oversight of the life and ministry of this congregation. Its aim is to see that the words and deeds of this household of faith bear witness to God. The council seeks to involve all members of this congregation in worship, learning, witness, service, and support, so that the mission of Christ is carried out in this congregation, in the wider church, in this community, and in the whole world.
Diane Torry, President Kathy Doyle, Secretary
Linda Puckett, Treasurer
Fred Ford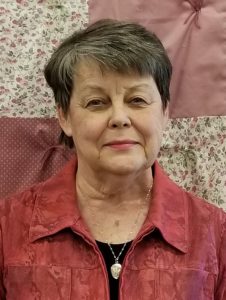 Diane Torry,
Council President
I was born and raised in rural Northern Minnesota, where I was baptized and confirmed at Zion Lutheran Church in Twin Valley. I hold a Bachelor's and Master's Degrees in Political Science and International Relations from the University of Minnesota. with post graduate work in finance and accounting at the University of Nevada, Reno. I retired as a senior US Bank executive, having served in progressively expanding leadership and management roles through corporate lending and executive positions including President and CEO of US Bank Nevada. Following my retirement I taught leadership and management as an adjunct Professor in the School of Business at UNR. I worked with my husband Mike at MLT and Associates, a national re-manufacturer of point of sale terminals.
My forty years of community service includes United Way of Northern Nevada, Board Chair; Nevada Bankers Association, Chair; Advisory Boards at the University of Nevada; Habitat for Humanity; Board of Directors, Boys Scouts Nevada Area Council Board of Directors; Economic Development Authority; Chamber of Commerce; Financial Women International; and Prospectors Club.
Today in addition to work with Holy Cross, I serve as President of the Board of Trustees of Silver Sage Manor, Inc., and Vice Chair of the Children's Cabinet Foundation.
Mike and I have 2 daughters, Katharine and Natalie. We joined HCLC in 1981. I have served on church council, and numerous committees including finance; stewardship: new member; building; landscape; quilt group. We enjoy time with family, friends, and home.
.

Fred Ford
I and my, Karen, have been members of Holy Cross since April of 2006. I have served as an usher, a counter and helped at the Silver Sage Thanksgiving dinners.
I grew up in Montana, went to college for a couple of years, then joined the Army, serving in Germany for two years. I came back to Montana, finished college, then went on to grad school in Minnesota. I ended up staying almost twenty years in Minnesota, working in Education and business. In 1986 I took a position in CA and worked there until I retired. I have over forty years experience in human resources, with thirty plus years serving on different Executive committees.
Karen and I have a son and a daughter, five grandchildren and one great-grandson.
I hope my education and business experience will help me be a positive contributor to the church council.

Kathy Doyle,
Council Secretary
I have been attending Holy Cross since 2013 when I moved to Reno from Marin County, CA, with my husband Charles.
I was immediately drawn to Holy Cross because of its size and friendliness of the congregation members. In addition to being on the Council, a few years ago I started a Women's Book and Bible discussion group based on books with biblical themes. I am also a member of Hooks & Needles, a church knitting and crocheting group that makes shawls, caps, scarves, blankets, etc. for various charitable groups around Reno. I also serve on the New Members Committee, which organizes orientation sessions for new church members. I really enjoy being on this committee, as it gives me a chance to get to know prospective new members.
I lived for most of my career in the Washington, DC area, where I worked for circa 30 years for the U.S. Department of State Diplomatic Service . Upon retirement, I moved to San Francisco to work in the private sector, where I met my husband Charles. I am so happy to be in Reno and to be a part of the Holy Cross family.

Fran Moses

Warren Kline